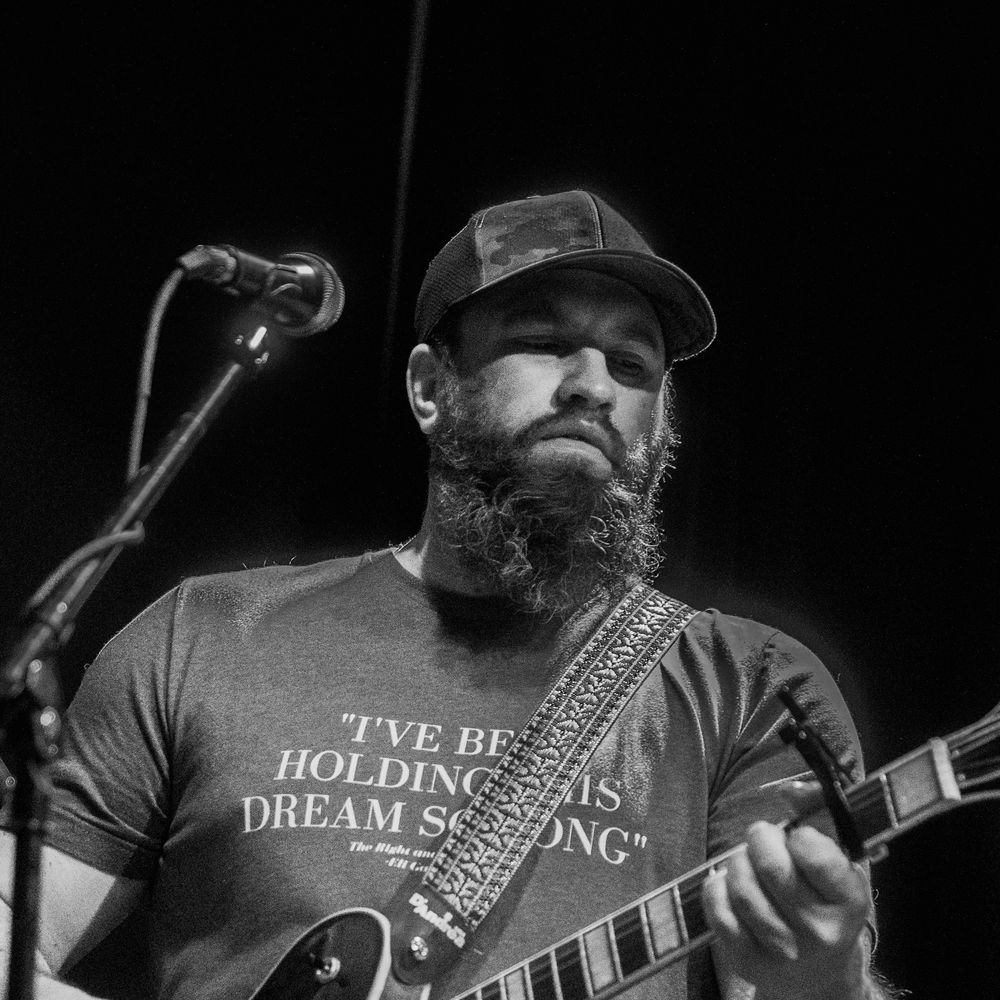 Bio
Eli Gardiner is a songwriter from the Upper Peninsula of Michigan, currently located in Minneapolis Minnesota. Coming of the 2020 release of his album, The Fire and The Medicine, he formed his full band comprised of drummer Greg Schutte (Mickey Hart, Ryan Bingham) lap steel/electric guitarist Dan Schwartz, keyboardist Kevin Gamble and bassist Nick Salisbury (Ryan Bingham, Brian Fallon).
The live album, LIVE IN MINNEAPOLIS was recorded on a cold night in February at The Aster Cafe by Alchemy Audio. A few of the songs are live versions from the latest album, "Boat at Sea", "Mountain", "Villain"and "The Right And The Wrong". This album also has a handful of new songs that have never been released. The groovy "Bad Weed", "I'm like a bad weed, I'm growing all the time" a song about being stubborn and growing through bad circumstances,"Flatlands" written while Eli was living in an old farmhouse in Iowa, paints a picture of midwest poverty and tornadoes. And "Saints Among Us" the most recently written song, "how do you see the world when it turns to dust…Saints among us" lays out an optimistic view in the face of a crumbling world.
Eli grew up in musical household. His mom played flute and piano and his dad classical guitar. Music was always on, James Taylor, Jim Croce, and Bonnie Raitt would be playing as dinner was made and the dishes were washed. From a young age he pursued his first passion though, hockey, not starting to write songs until he was out of high school. "I remember sitting in my room trying to learn chords on my dad's old nylon string guitar, he had a song book and I think the first song I learned was House of The Rising Sun." Shortly after, he recorded the first songs he wrote on a 4 track Tascam tape recorder. "I still have some of those old notebooks I wrote those old songs in" Eli states. Moving to Minneapolis was a turning point for his music career. He started going to open mics and songwriter nights as much as he could and started to regularly attend The Songwriter Showcase that was run by fellow songwriter Nick Hensley. There he met guitarist Dan Schwartz and bassist Nick Salisbury who introduced him to drummer and producer, Greg Schutte. The fruition of meeting these talented musicians was his first full band album that was released in 2020, The Fire and the Medicine. "I remember going into the studio to do one last session for the album, it was the banjo part on Fictional Women. We were sanitizing door knobs and staying 6 feet apart, and then the next day everything shut down, it was crazy, " Eli remembers. "I think the mixing process really helped me with the first part of the Covid lockdown. I would go on walks every day and listen to mixes and compare them to other music I was listening to, it really was a good thing to focus on." From that album process Eli started to regularly play shows with his full band comprised of the musicians who were on that album, Dan Schwartz on lap steel and electric guitar, Greg Schutte on drums, Nick Salisbury on bass. As of recently keyboardist Kevin Gamble has joined on shows as well.
Eli's music is always changing, morphing to the mood and groove. It can be described as Americana or Rock, but the themes are deeply rooted in our lives in present day, what it means to be a human and to be sympathetic to other people. Its also about our connection, how we are all the same and crave that understanding that music can bring at its most transcendental times.
Photo by Sammy Jean Cohen